Welcome to the 'Gifted and Talented' section of the website.
Click here to view our 'Gifted and Talented' policy. Policies for a specific department can be made available on request.
Aims and rationale
Wadebridge School aims to provide all students with the best education possible. We recognise the importance of providing a safe and stimulating environment for all. The aim of the gifted and talented team in school is to provide support and assistance for gifted and talented students, enabling them to reach their full potential.
Identification
We identify two types of gifted students:
Most Able - those who are estimated to achieve at least Grade 7 or equivalent in their best 8 GCSEs, using prior attainment data;
Talented - a high achiever in a particular subject, based on individual subject criteria.
Most Able students are identified in the second half of the Autumn term of Year 7, when national data is released. Talented students are identified in January of each year based on the work they have completed since September.
Provision
Talented students are supported by the relevant department, although intervention may be put in place if needed as a result of progress checks or concerns raised by parents and/or staff.
Most Able students will benefit from a comprehensive mentoring programme designed to help them deal with specific issues as they arise.
This is an example of how the mentoring programme may look: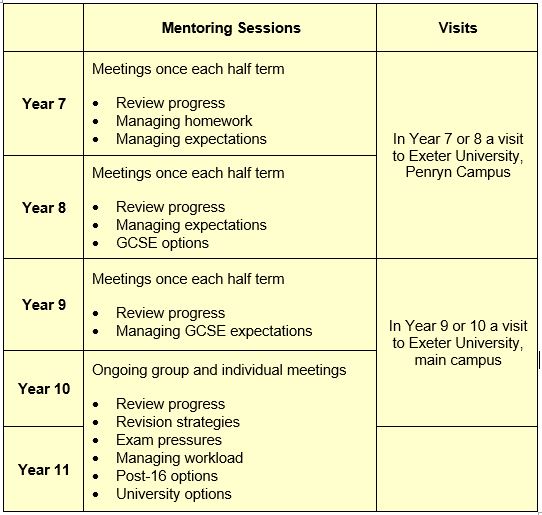 For further information, please don't hesitate to contact the school.