Wadebridge School Art Department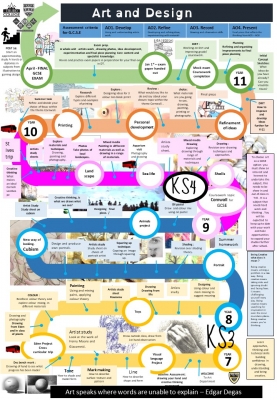 Key Stage 3
These are vital years in developing and extending our knowledge and understanding into the vast opportunities Art has to offer. We are not trying to establish readymade artists but to give an experience that touches on some of the thinking, philosophy and skills that are all so important to us all.
We aim to develop your confidence in applying skills such as drawing from observation, 3D making skills, printing, designing to problem solving and learning about the way art has been made and thought about throughout different periods in time.

We deliver the course through projects, that require you to look, think, plan, design, see what has been done before and produce final pieces that reflect your interests and reactions to set starting points.

We understand not everybody has the same confidence in this subject or set of skills, but we also know what can be found within you if you give everything your best and most concentrated effort, allowing everybody to enjoy, feel safe and valued. This sums up our expectations in what we believe to be a subject that offers a lot for all.

Below is a brief outline of what will be covered over the different years within Key Stage 3. There is a link below to the mapping of what we do over Key Stage 3.

Have you visited our Moodle page, which has lots of information and inspiration clips to help you along the way.
Year 7
Our Year 7 curriculum map can be accessed here.
Year 8
Our Year 8 curriculum map can be accessed here.
Key Stage 4

G.C.S.E. students will follow a two year Fine Art course. During this course students will be able to choose after the introductory period of choosing which discipline within Fine Art that best suits or interests. The disciplines to choose from are, painting, drawing, printing, film, 3D or Photography. Ideally a mixture is recommended but you can eventually work solely within one of these disciplines.

The G.C.S.E. course has two elements to it. The first is the Coursework Portfolio. This will contain a variety of work completed from the beginning of Year 10 through to the December of Year 11. It will include all the development work completed for the major project you will undertake at the end of Year 10.

At the end of January Exam papers will be given out, you will then be working on your examination element which is worth 40% of your overall grade. Help for this Unit is located in the Art shared area, where you will find images and artists work on the different themes set by the Exam Board.
To help you along the way explore the Art Moodle, that has lots of different techniques and levels of guidance. Try also BBC Bitesize as this is a very good source too.

The looking at artists is a crucial factor in studying at G.C.S.E. use this useful link to see the expected depth of response is required for the different grades.
Artists' work is a vital element within the course, see this link to explore the expectations as to the depth of research needed for each G.C.S.E. grade.
examples of year 9 work can be seen in this document