Welcome to Business Studies

Business Studies is available to students in Year 9, 10 and 11. The Department believes our students will succeed by providing a stimulating environment that is conducive to learning with support, challenge, praise and encouragement. The department is comprised of Mr Barnes (Teacher of Travel and Business), Mr Glynn (Business Studies) and Mr Springett (Teacher of ICT and Business). Business Studies will help to develop your knowledge and understanding of how organisations are organised and managed.
There are currently over 200 students studying the subject at Key Stage 4.
We also organise a number of trips and visits to local businesses and we encourage students to have an interest in the world of business and a real desire to explore new ideas.
Business News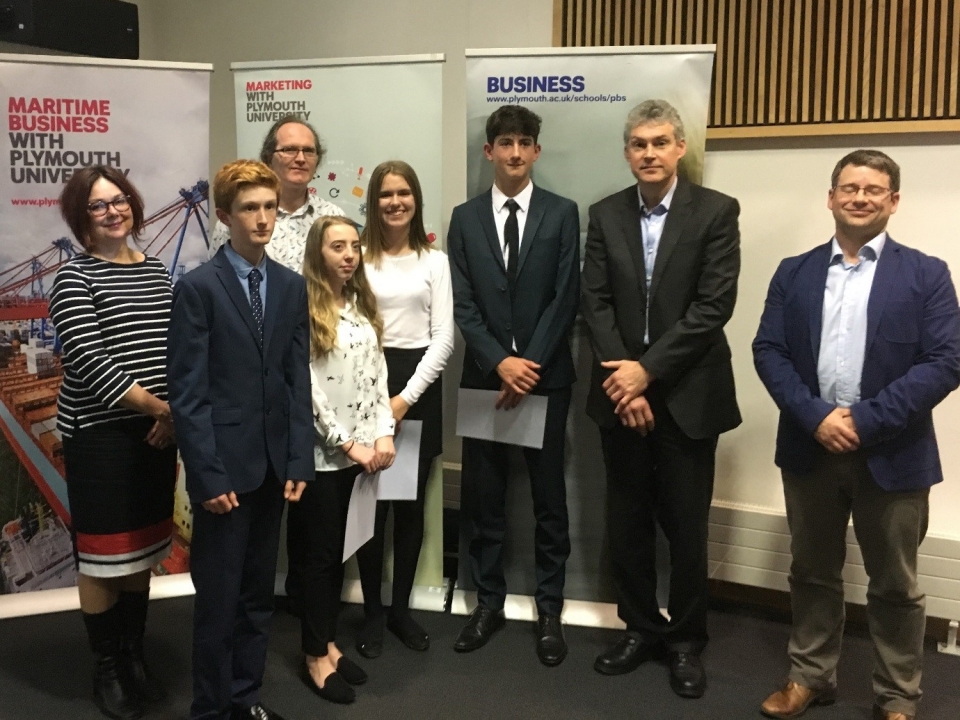 Congratulations to the following GCSE students who won the Plymouth University Business Presentation Competition. (Erin Borrott, Sam Gough, Amy Crisp & Jim Sproull) The students competed against 14 other teams from schools across Cornwall and they only had 2 hours to research and write their presentation. The students said they chose the topic, "Can anybody be a successful entrepreneur?" because they had studied entrepreneurs in GCSE Business lessons and had previous knowledge of the subject. They also felt they had improved their presentation skills and learnt how to work as an effective team against a tight deadline.
Key Stage 4 AQA GCSE Business Studies (9-1)
Here is a link to the new specification.
https://www.aqa.org.uk/subjects/business/gcse/business-8132/introduction
Example exam papers and commentary are available.
https://www.aqa.org.uk/subjects/business/gcse/business-8132/assessment-resources?f.Exam+series%7CW=Sample+set+1&sort=title&num_ranks=10&query=
The following units are covered over the three years:
3.1 Business In Real World

3.2 Influence On Business

3.3 Operations

3.4 Human Resources

3.5 Marketing

3.6 Finance

Here is the glossary of important key terms.
A full revision guide covering the new syllabus has been issued to all students.
Further revision materials are available in shared area.
Key Stage 4 OCR Cambridge National Enterprise & Marketing Level 1 & 2
The examination board is OCR. More details, including the full specification (syllabus) available at:
https://www.ocr.org.uk/qualifications/cambridge-nationals/enterprise-and-marketing-level-1-and-2-certificate-j819/
OCR Business Studies is a modular course made up of 3 units:
Enterprise and marketing concepts. Learners will develop essential knowledge and understanding of enterprise and marketing concepts. This is an examined unit- 90 minutes
Design a business proposal. Learners will identify a customer profile for a specific product, complete market research to generate product design ideas, and use financial calculations to propose a pricing strategy and determine the viability of their product proposal.
Market and pitch a business proposal. Learners will develop the skills to create a brand identity and promotional plan for their specific business product proposal developed in the second topic. They will develop pitching skills in order to pitch their business proposal to an external audience.
Revision materials for OCR are available in shared area.