Events
School Funding concerns - letter to parents
Clare Teal comes to Wadebridge School

Sixth Form Provision Letter - December 2018
Christmas Shoebox Appeal 2018.
A huge thank you to all those children, parents and staff who donated all items for this appeal. Thanks to your generosity we were able to fill 60 boxes to send as gifts to underprivileged children.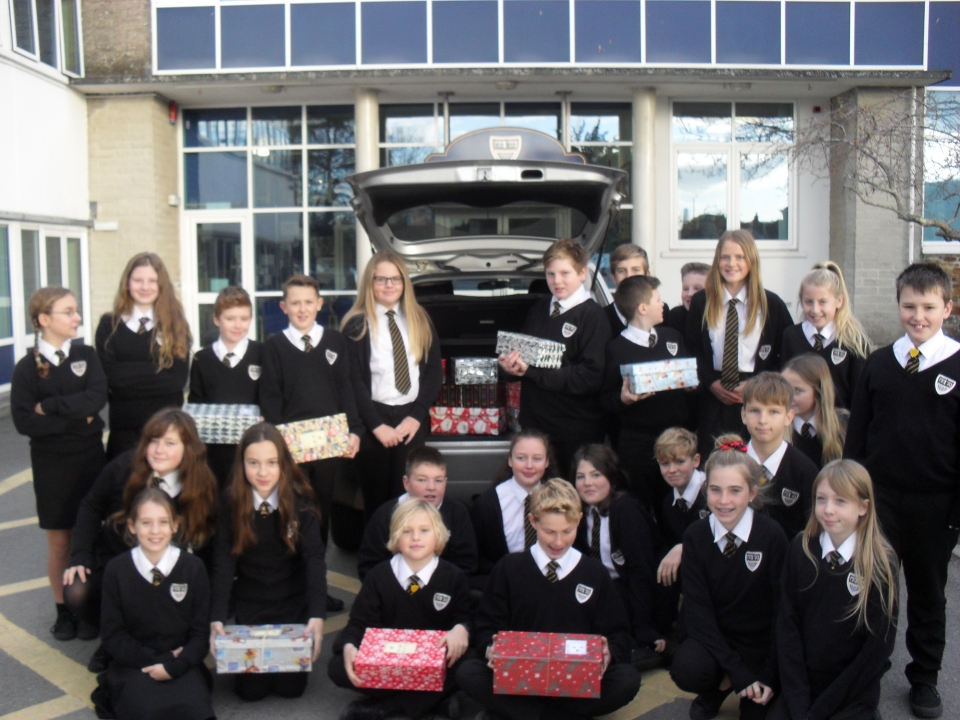 Resilience Days - 16th - 19th July 2018
Follow this link for photos ...
Lady Taverner's Regional Cricket Competition 2018

U13 South West Regional Finals Day
The U13 girls cricket team travelled up to Southampton to represent Cornwall in the Lady Taverners Schools Regional Finals day, which was hosted at the Ageas Bowl, Southampton.
Imogen Hanson, Ellen George, Beth Kent, Coco Kuhnzack-Richards, Isabelle Rix, Hannah Prideaux, Sophie Reseigh, Tamsyn Old, Stephanie Key, Lowenna Pennington
The girls started the day off well with a comfortable win but then narrowly lost their second match to Millfield and their final game meaning they did not qualify for the National Finals Day.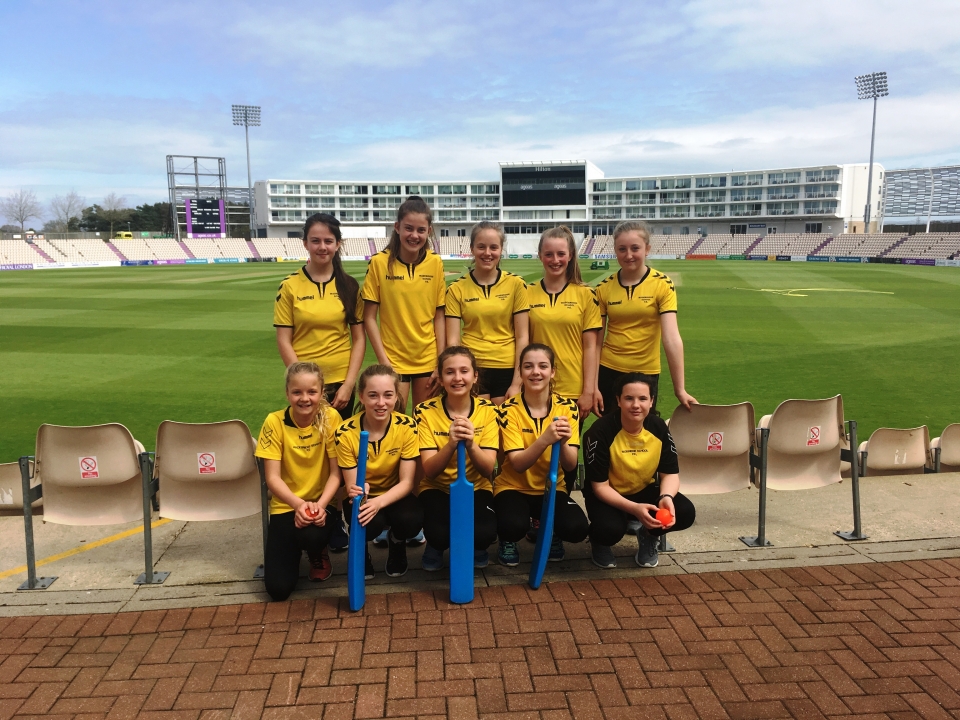 Cornwall School Mining Games - success! Read the full report here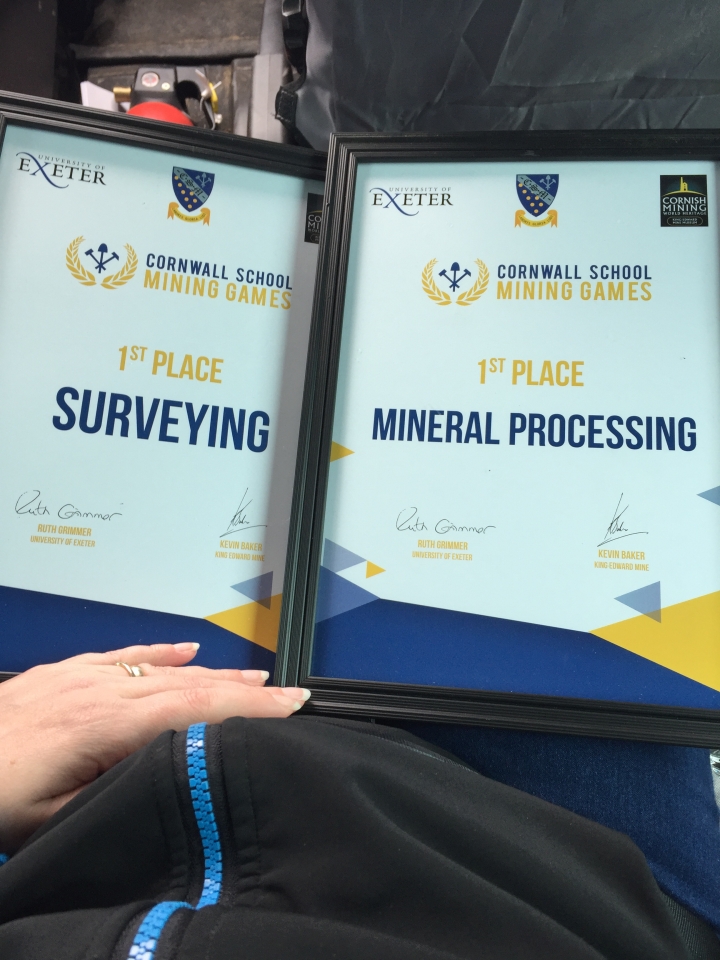 Safer Internet Day 2018 will be celebrated globally on Tuesday 6th February.
We will be running tutor sessions looking at how pupils can "Create, Connect and Share showing Respect and how a better internet starts with them.
In additional to this we have a range of new resources available for pupils and parents:
- Updated student section on school website providing new information on reporting indecent media that has been posted about them. Click HERE

- Updated parents section with links to new resources to support parents of both pupils from this school and younger siblings. Click HERE

- New display campaign around school focusing on positive uses off technology for revision and self-study.

- New display and poster campaign around school reminding pupils how to stay safe online.

- New email address to pupils/parents to ask questions – digitalsafety@wadebridge.cornwall.sch.uk
Photos of our Week with the Young Americans

CREST Award
At the Big Bang National Science and Engineering Competition, Year 10 CREST boys took part in breaking a world record, to pass 10L of water along a pupil chain of 200 pupils for water aid, well done boys. The blue wigs were compulsory, but meeting Jason Bradbury made up for that!
Well done to CREST award Year 10 boys at the Big Bang National Science and Engineering Competition. Sadly no prizes but a brilliant performance and a great opportunity to represent Wadebridge School at such a prestigious event. Click here for photos.
Write up from Tom Oatley
Cosmic Classrooms
North Cornwall Secondary Schools Collaborative Approach to Drug Education


We have been working in partnership with Bodmin College, Sir James Smith's School and Devon and Cornwall Police to coordinate a planned drug education programme across all three schools. The Police have delivered special assemblies this term to all students in the schools with a purpose to educate them about the harmful effects of drug use, the law surrounding illegal drugs and the powers of detection involving the use of a Passive Drug Dog. The Police will visit each school again during this academic year with a Police dog to carry out unannounced spot checks to help promote the message that schools should be drug free.
South West win for Year 9 CREST project.
Images from the Drama Showcase at Hall For Cornwall in January
News Bulletins
The following students all achieved their Bronze Duke of Edinburgh Award this half term:
Aleesha Darville
Keely Kuhnzack-Richards
Mary McWilliams
Thomas Cole
Reuben Gibbons
Gregory Wilmot
Karenza Carne
Amy Dalley
Two Sixth Form students achieved their Silver Award this month:

Bea Hodge and Jade Moine
Congratulations Everyone!
EmPower Plus Charity Fund Raising Event
Wadebridge School offer a student support service called EmPower Plus. This service is run by a group of Year 10 students.
The role of the EmPower Plus mentors is to offer support to students in Year 7, 8 and 9 by offering help and advice at the lunchtime drop in centre. As well as the regular lunchtime drop in's, EmPower Plus also offers a confidential email and text service, where students can contact them for help or support. The EmPower Plus Team decided to raise awareness of their service and raise money for a local charity at the same time. The charity they chose was Children's Hospice South West. They managed to raise a very respectable £615.00.
Sarah Stott, Senior Community Fundraiser for CHSW said "On behalf of everyone at CHSW, I would like to say a huge thank you to the students at Wadebridge School for raising such a fantastic amount for us through their non-school uniform day. It really is wonderful that these young people have chosen to do something to help other children. Their generous donation will make such a huge difference to the children and families that we support at Little Harbour - thank you so much!"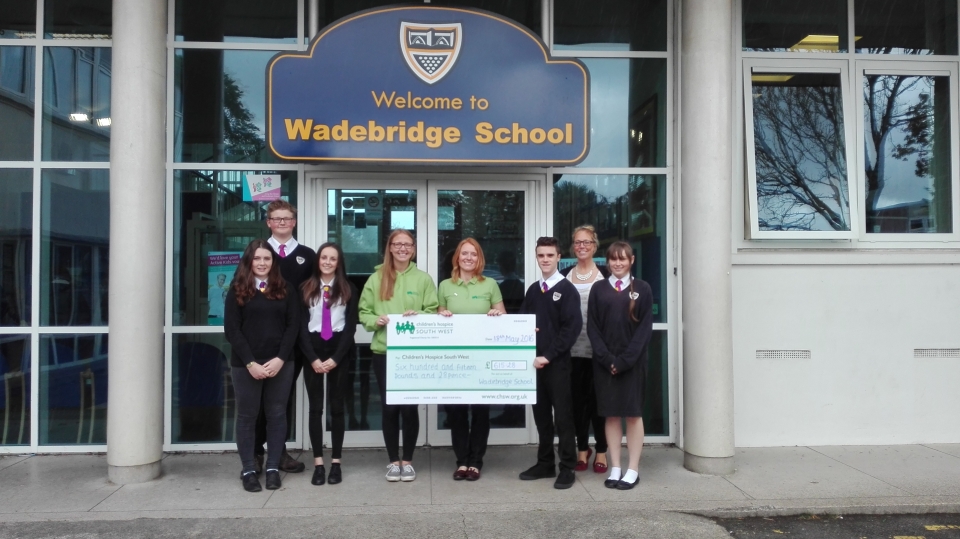 Fundraising for FLEET
At Wadebridge school following demonstrations by the local charity FLEET, on how to use a defibrillator, Miss Bassett's tutor group were inspired to hold a cake sale to raise money for the charity. In one day students from 9CBT managed to raise £183 for FLEET in support of the Cornwall defibrillator project. Pictured are students from 9CBT with Miss Bassett (left hand side) and Anne Rundle (centre) receiving the cheque on behalf of FLEET.