Welcome to Business Studies
Business Studies is available to students in Year 10/11 and the Sixth Form. The Department believes our students will succeed by providing a stimulating environment that is conducive to learning with support, challenge, praise and encouragement. The department is comprised of Mrs Boden (Curriculum Area Leader of Business), Mr Gill (Teacher of ICT and Business) and Mr Glynn (Assistant Head). Business Studies will help to develop your knowledge and understanding of how organisations are organised and managed.
There are currently over 100 students studying the subject at Key Stage 4 and over 35 at Key Stage 5.
We also organise a number of trips and visits to local businesses through all the Key Stages and encourage students to have an interest in the world of business and a real desire to explore new ideas.
Business News
On the 10th June the double decker NatWest Learning Bus arrived at Wadebridge School to teach the Year 10 GCSE students about business finance. The workshops were delivered by Darren Lewarne and Mike Finnie who were brilliant at making complex topics of the profit and loss account and the balance sheet seem more straight forward for 14 and 15 year old students. It was great to see so many students asking questions and the following students really stood out with their level of mature and intelligent questions; Morgan Centini, Sophie May, William Bennett, Chloe Brooks, Finn Johnson, Marlin Barea and Morwenna Franks.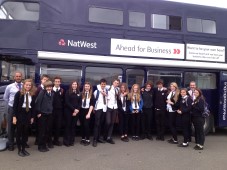 Students asked the NatWest team some challenging questions such as, "how do large firms like Amazon and Starbucks avoid paying corporation tax?" and "why do directors salaries often increase?" You can understand why this prompted some interesting discussions.
Please click here for the A Level Business page.
Please click here for the BTEC Level 3 Business page.
GCSE Business Studies
The AQA GCSE specification, past papers and mark schemes can be found on the AQA website.
Presentations on various aspects of the course can be found by clicking on the appropriate line below
Key Stage 4 BTEC
Where are they now? Some destinations of past students.